Experiential marketing is becoming a popular tactic among companies who realize that audiences connect with brands more successfully if they are able to participate or engage directly with the brand. A great example of experiential marketing is Samsung's efforts at the 2012 Olympics to introduce consumers to their new Galaxy S3. They set up booths throughout London where they allowed consumers to play with the phone or to have pictures of themselves taken with the phone that were then turned into personalized badges.
While experiential marketing is a very effective tactic in itself, experiential marketing companies should be sure to incorporate digital marketing to help increase the impact that it can have. The following are a few ways that experiential marketing companies can use digital technology to improve their experiential marketing efforts.
Promote Your Events
Using experiential marketing to engage your audience isn't going to be very effective if you don't have much of an audience in the first place. You should use digital marketing to promote whatever events you're holding. For example, if your company is putting up booths in multiple locations during a specific event (such as the Samsung example during the London Olympics), then you'll want to not only promote when you're doing it, but the exact locations and times that you will be there.
You can do this by promoting the event on social media where it will get the most exposure. Make it possible to RSVP to the event so that you can track the number of attendants that you're expecting. You could even promote the event, but not reveal the time and place unless someone RSVPs to create a more exclusive feeling. You can also use your email list to notify people of your event and what they can expect there.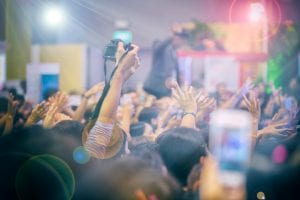 Create Real-Time Content
Creating content during the event can be helpful for a number of reasons. First of all, it gives audiences who weren't able to attend a chance to see the effort you've put into creating an experience. While they won't have the full experience of attending, they'll get a general idea of what it was like and will be able to learn about whatever your event was about. For example, you could live stream parts of the event.
Besides providing more exposure for your event this way, it can also help convince audience members who didn't attend to show up to your next event (or if your event is being held over multiple days, it could convince people to show up at the next scheduled event).
Encourage User-Generated Content
Use the content that your audience creates at the event to promote it. This can be especially effective for demonstrations of new products. Simply have a hashtag available that everyone can use to tag the content they create, such as pictures or videos recorded on their phones. There are other ways to encourage users to create content as well. For example, one food company had a professional photographer at their event to teach audience members techniques for taking pictures of food. They would then post the pictures they took on Instagram using the official hashtag that the company created.
Experiential marketing is a fantastic way to engage consumers, but you should be sure to leverage digital technology to get the most out of your experiential marketing efforts. These are a number of ways that experiential marketing companies can use digital technology to help increase the overall impact of their experiential marketing efforts.
https://stevens-tate.com/wp-content/uploads/iStock-857615704_lowres.jpg
1200
1800
Mark Beebe
https://stevens-tate.com/wp-content/uploads/STLogo-websml-biggerAM.png
Mark Beebe
2018-09-26 09:00:57
2021-05-08 01:57:54
What Experiential Marketing Companies Can Gain By Blending Experiential Marketing With Digital Works