Stevens & Tate Marketing is a leading Chicago-based, integrated marketing and advertising agency that services clients nationwide. We specialize in digital marketing, broadcast advertising, package design, media planning, SEO, social media, and website design.
At Stevens & Tate we understand the importance of offering leadership in thinking and process. We know objectives and strategies should always be bold and measurable and that creative content must clearly convey your service or product's unique competitive advantage.
We have proven that we can "Make Things Happen" for our client partners. Our two decades of work and hundreds of satisfied clients have landed us multiple accolades from the B2B Research firm Clutch. We are extremely excited that in their 2019 Rankings Report, Clutch recognized Stevens & Tate Marketing among their top radio advertising agencies and top tv advertising agencies.
Read About: Stevens & Tate Recognized as a Top Digital Marketing Company on Design Rush
Clutch's primary purpose is to help small and medium-sized businesses find and choose the right marketing agency to meet their project goals and budgetary needs through unbiased reviews, showing agency comparisons, and sharing industry insights from thought leaders. The platform makes it easy for a business in search of services to find case studies, client testimonials and other vital data in one centralized location.
Clutch analysts determine which B2B marketing agencies make its carefully constructed lists based on a methodology that relies heavily on verified client reviews. As a result, securing a position on their list of leading marketing agencies is especially meaningful to our team because we know that we earned our place based upon genuine feedback from our clients. Check out one of our 5 in depth review summaries below!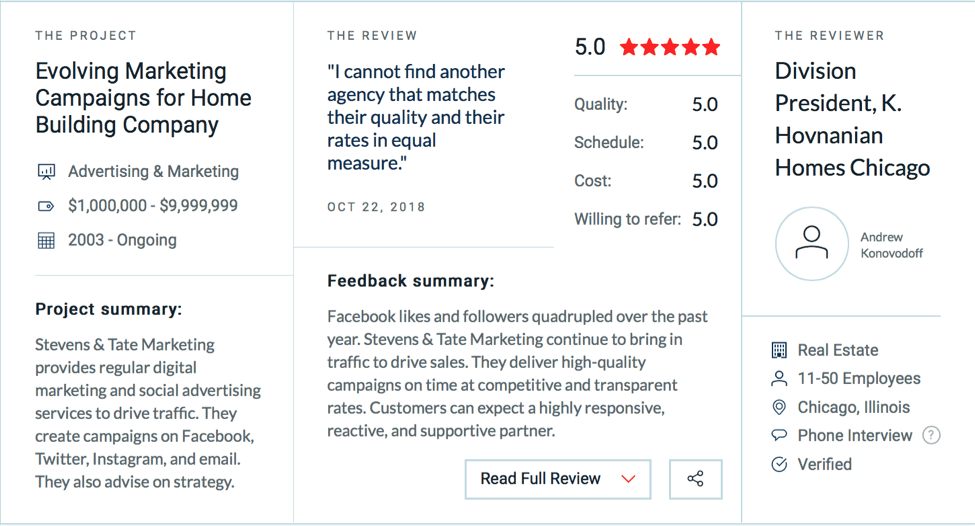 Our perfect 5-star rating is important to us because ultimately, our marketing and design work is about delivering results to our clients. When our clients say things like, "They understand our company and our brand" we feel immensely rewarded because it shows us that the time and effort put into connecting with our clients on a personal level is worth it and is demonstrated in the quality of our work.
In addition to the recognition on Clutch.co, Stevens & Tate Marketing is featured among top advertising agencies on Clutch's sister website, The Manifest; and is listed within the top branding agencies in Chicago by Visual Objects, Clutch's other affiliate site.
To provide a bit of context, The Manifest sets itself apart as a business news and how-to website that compiles and analyzes practical business wisdom for innovators, entrepreneurs, and small and mid-market businesses. On the other hand, Visual objects is unique because it is intended to inform a buyer on the quality of a particular companies work. The platform allows your business to see a creative agency's completed work and visualize a project, something that is essential when making a hiring decision.
We understand that this distinction is not possible without the support and partnership of our clients. We have immense appreciation for our entire client base and would like to thank those who have provided positive and constructive feedback. The evaluation and responses provided by our clients is the only way we can continue to improve our services, and we promise to continue to "Make things happen" far into the future!
https://stevens-tate.com/wp-content/uploads/iStock-1086602920-1.jpg
1368
2048
Stevens and Tate
https://stevens-tate.com/wp-content/uploads/STLogo-websml-biggerAM.png
Stevens and Tate
2019-06-20 00:00:00
2021-04-22 07:22:40
Stevens & Tate Marketing Agency Named Industry Leader on Clutch