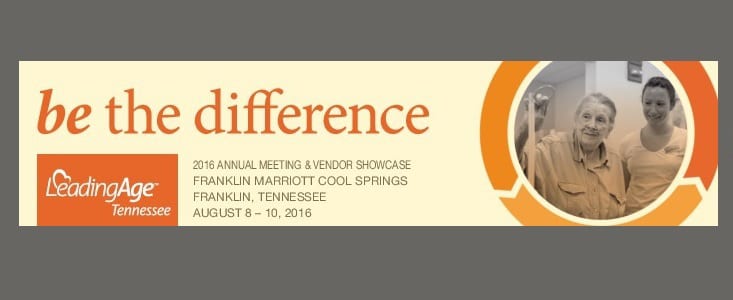 LOMBARD, ILL., August 3, 2016 – The senior living industry appreciates the benefits that relevant and focused marketing education can provide. Over the last few years, speakers from Stevens & Tate have been selected by numerous LeadingAge chapters and related associations to share their insight at exciting events nationwide. This summer, Internet Marketing Director Nicole Wagner is gearing up for a few select appearances—one of which is the LeadingAge Tennessee 2016 Annual Meeting & Vendor Showcase.
The event (themed "be the difference") is being held from August 8-10, 2016 at the Franklin Marriott Cool Springs in Franklin, Tennessee. As the premier showcase for the Tennessee's senior living/aging care services marketplace, hundreds of industry professionals are expected to attend. Wagner will present "Embrace the Conversation: Strategies for Using Search & Social to Attract Residents" on Tuesday, August 9th from 11:00am-12:00pm.
When asked about the upcoming speaking engagement, Wagner stated that she is "pleased that so many senior care organizations are embracing the value of marketing, and want to learn more about how they can enhance results." The agency is thrilled to be able to reach so many new organizations within new markets each year. This is due to their extensive industry expertise, as well as the positive feedback they continue to receive from event attendees.
"Make no mistake," Wagner said. "Seniors are online. Their adult children are online. Senior living/aging care organizations are embracing this fact and looking to learn the most effective ways to engage them. My search engine marketing and social media presentations have been so well received by this audience because I offer a real-world approach to the strategies and tactics that work best in today's marketplace—with specific examples tailored to their business," she continued. "It is exciting to hear the positive feedback from members who have implemented these techniques to strengthen their marketing programs and maximize the impact of their efforts."
Nicole Wagner looks forward to having another well-received session and helping participants take their online marketing experience to a new level.
LeadingAge Tennessee includes members across continuing care retirement communities, assisted living communities, skilled nursing facilities, and affordable housing providers, as well as corporations who provide services, products, and trusted advice. For more information about the 2016 Annual Meeting & Vendor Showcase, visit http://www.leadingagetennessee.org/?page=AnnualConference.
Stevens & Tate Marketing (www.stevens-tate.com) is a full service advertising agency offering Internet marketing; award-winning, on-strategy creative; integrated message development; and cost-effective media planning and execution. Stevens & Tate creates focused, targeted solutions for all its clients in senior living, medical/healthcare, business-to-business, food, grocery, retail, travel/tourism, and real estate industries.
To learn more about the speakers at Stevens & Tate Marketing, visit https://stevens-tate.com/speaking. To discuss specific speaking opportunities for your organization or association, contact Stevens & Tate Marketing by calling (630) 627-5200.
# # #
SUMMARY: Stevens & Tate Marketing Internet Director Nicole Wagner selected as featured speaker for another upcoming senior living/aging care services industry event this August. At the LeadingAge Tennessee Annual Meeting & Vendor Showcase, she will discuss key online marketing issues tailored for these audiences, including specific strategies and tactics for enhancing success in social media and search engine marketing.
# # #
https://stevens-tate.com/wp-content/uploads/2016/08/leadingage-tennessee.jpg
300
733
Stevens and Tate
https://stevens-tate.com/wp-content/uploads/STLogo-websml-biggerAM.png
Stevens and Tate
2016-08-03 09:56:35
2018-08-22 02:59:45
Nicole Wagner Expanding Outreach To The Senior Living Industry With Upcoming Speaking Event