The Approach to Achieve Powerful Results
Strategic Insight. Dynamic Creative. Thoughtful Execution.
In today's evolving marketplace, brands must connect with customers on a different level. Create engaging experiences that resonate personally. Build trust with meaningful storytelling that drives interaction. And brands must do it all in ways that fit into their customers' worlds in relevant and memorable ways.
Regardless of industry, product, business size or scope, marketing is all about people. Everyone is a customer—whether a buyer in a specialized business niche or a shopper in a retail store. That's why our specialized approach involves diving deeper. Thinking smarter. Truly understanding your business and your customer; your challenges and goals. Clearly defining your objectives. Setting measurable outcomes. And developing targeted solutions designed to drive action and leave lasting impressions.
A solid foundation for moving people to act
No two clients are exactly alike; but the process is rooted in the same philosophy. It's not about any one media or channel. It's about complete programs set in line with your audience and goals. We work in partnership with each client to get to the core of a product or brand's unique competitive advantages. Gain in-depth industry insight. Incorporate innovative and results-driven strategy. Craft messaging and creative to communicate it. And bring it to life in flawless and focused executions. It's how we Make Things Happen™. Let us show you how we can do it, for you.
Video
Today's media mix is constantly expanding. Finding the right balance to fit your customer and your budget is key.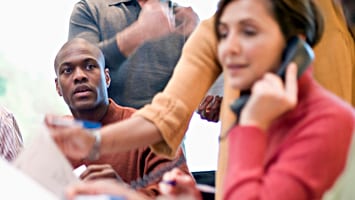 Capabilities
Traditional, digital or social, our spectrum of services spans across advertising, creative, media, research, strategy, and more.
Case Study
See how we put the process to work in an integrated branding and launch campaign for a top healthcare manufacturer.