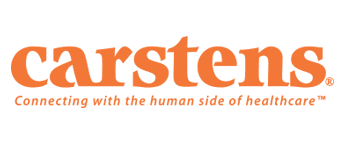 Case Study: Branding a Century-Old Company for the Future
Carstens® is a leading provider of custom healthcare support solutions—serving more than 4,000 hospitals and healthcare facilities nationwide.
Situation
The most trusted name in traditional patient charting systems for over 125 years, Carstens® was evolving to meet the changing needs of today's healthcare environments. The company was developing new innovations to enhance to the point of care with electronic health records (EHR) support, secure medication distribution and advanced workflow solutions, and cutting-edge technology integration.
Goals included: refresh the brand image and create a clear message for moving forward; develop a cohesive campaign to build engagement; and strengthen the company's position as a thought leader in the industry.
Solution
A thorough Competitive Advantages Discovery process was completed with the Carstens® team to determine unique selling propositions and get a clear understanding of where the company was headed. These interactive workshops and interviews uncovered insights that led to a solid messaging strategy and marketing direction for helping Carstens® grow.
Key operational efficiencies became the driving force behind the new branding campaign—being manufactured and engineered in the USA allows customization freedom for each customer. Building on the company's legacy but addressing the shift in the marketplace, focus was placed on Carstens'® core products—the WALLAroo® and the WALKAroo™—as well as introducing revolutionary new solutions that differentiated Carstens® in the marketplace.
Results
The new marketing program provides significant opportunity to evolve with the healthcare landscape. Solution-based messaging speaks to each audience directly across all touchpoints, with executions spanning a range of media. Recognizable brand consistency has been created while offering ultimate flexibility to keep audiences engaged—and keep Carstens® ahead of its competition. To date, the company has increased market penetration, has reached a wider audience base, and solidified its position as an industry leader.