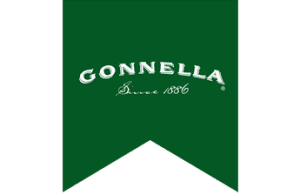 Growing A Brand, Naturally
Gonnella®
One of Chicago's original bakers of legendary Italian bread, Gonnella Baking Company had grown into a national supplier of a multitude of products—from consumer packaged breads and rolls found in grocery store aisles and delis to fresh baked frozen and frozen dough selections for the in-store bakery and food service industries. In an increasingly competitive market, Gonnella needed to strengthen its brand with consumers while simultaneously increasing market share in the burgeoning business-to-business space. The company enlisted Stevens & Tate Marketing to provide a fresh perspective.
To help retail sales rise, Stevens & Tate modernized Gonnella's package design to be more on-trend, using bold colors to stand out on store shelves and large type to highlight each product's flavor and benefits. Upon debut of the new packaging, Stevens & Tate launched a regional advertising campaign. The media mix combined mobile ads geo-fenced around store locations and billboards along heavily travelled highways with drive-time traffic sponsorships on broadcast radio to connect with consumers both visually and audibly. The campaign also reached another key target audience—route truck drivers, who were influential in helping Gonnella place new products on store shelves.
To grab the attention of buyers for supermarket, grocery, convenience store, restaurant, and quick-serve restaurant chains, Stevens & Tate implemented a business-to-business marketing program centered around industry publications and trade shows. The focus here was on the wide variety of frozen dough, par-baked and Thaw 'n' Sell items Gonnella was able to deliver. From trade show banners and graphics to flexible sell sheets, magazine ads to direct mail and emails—the bread was always the star. One campaign even capitalized on Gonnella's longstanding partnership with Chicago sporting venues including Wrigley Field, the United Center and minor league ballparks.
This two-pronged marketing effort allowed Gonnella to expand its presence in the business-to-business space, which has become its bread and butter, while achieving brand awareness with a new generation of grocery shoppers.