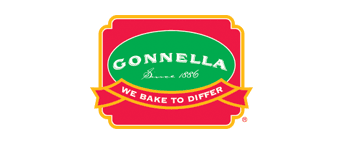 Growing A Brand, Naturally
Gonnella®
One of the country's largest suppliers of bread and dough products, Gonnella® stays on the forefront of the mass-market bakery industry with products that meet consumer demands. To match the trend toward more healthy, natural foods, it reformulated its frozen dough items to be made with unbleached flour and free of unnecessary chemical additives.
Our comprehensive program to brand, launch and introduce the new clean-label frozen dough items highlighted its natural essence—using wholesome, healthy imagery; simple, straightforward messaging; and earthy tones. National retail buyers were targeted through press, tradeshow signage, handouts and displays, as well as a corresponding outreach campaign including direct mail and email. The launch helped Gonnella® reach new markets and get in front of buyers for specialty, whole foods and natural food chains nationwide.