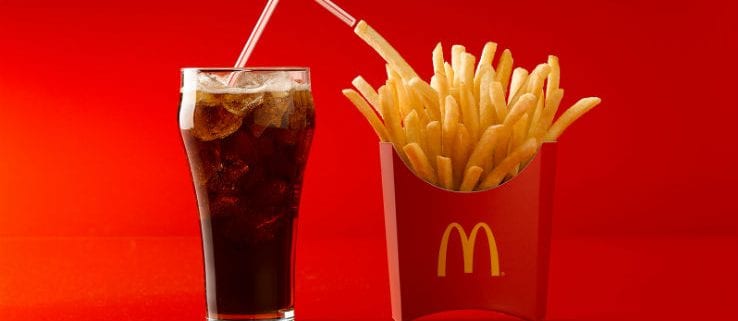 McDonald's Revolution in Retail Marketing
As I was traveling recently through St. Joseph, Mo last week, I stopped to get some gas and near the station was a McDonalds. I haven't been in a McDonalds for about a year and decided to order my lunch. I wanted to stretch my legs, so I walked into, what I would consider to be the future. 
I was greeted with a digital Kiosk board. Actually three of them. And all it said was "Create your taste". I could create my own burger, with ten additional sauces, avocado, tortilla strips, three cheeses, grilled or raw onion and the list goes on-even lettuce wraps. You see, I walked into the very first 6,500 square feet McDonalds offering you to create your own burger. Also looking around I saw televisions, armchairs and couches.
As I moved my hand around, I created my own burger. Once paid on the kiosk, I was asked by someone standing by me to take a seat. Huh? McDonalds is going to deliver to my table? I was given an electronic device that linked my order to my table.
If there wasn't a person standing by the Kiosk, I would of never had interaction. You see, McDonalds has figured out how to eliminate all the jobs taking orders inside. This in light of the recent, highly-publicized protests by minimum wage fast food workers demanding higher pay. McDonalds in the long run could cut an estimated 800,000 jobs. But that's not all, ready for this….all-you-can-eat French fries.
Now for the facts. This simple Kiosk for each franchisees will cost between $120,000-$160,000. The odd limited use of this kiosk is on the inside the restaurant. 70% of sales come from Drive-Thru customers. No cash either on these machines, only a card.
[Read About Food Retail Marketing To Millenials]
This is a McRetail brand revolution. McDonalds is re-inventing themselves so they cover everyones tastes, order at your own pace, sit down instead of waiting and put more money in the stake holders pockets.
What the future holds with this technology:
Retail Advertising. Advertising on these Kiosk will be timely and easy. The possibilities are endless. Once these Kiosk know who I am-then individual offerings can happen. Perhaps a coupon, playing Monopoly right on the kiosk or even a recent order can be pulled up.
Healthier Options. Yes, McDonalds if offering healthier alternatives on the menu but it doesn't mean consumers will buy it.
The Kiosk App. I see not too far down the road, an app that will allow you to do all this and pick up your order. The drive up experience once faster will become a very appealing alternative than going inside. Sometimes you just need to stretch your legs and get out of your car like I did on that fateful day.
Employees. If McDonalds has one or two more people in the kitchen, it might mean your food will be delivered that much faster. So maybe some cashiers can be saved.
McDonalds has been selective and quite about this change that is coming. Obviously test markets are happening right now. Retail advertising feels different. They know this concept will go viral and that just might be all the advertising they need to launch this properly.
Mark Beebe oversees all current clients. His secondary focus is leading the creative with original thinkers who provide innovative processes and insightful answers for clients' marketing needs. His 30+ years has garnered the team to over 50+ national and international awards. As a partner, Mark, looks for unusual solutions to bring smart results and metrics to your bottom line.
https://stevens-tate.com/wp-content/uploads/mcdonaldsfries.jpg
421
738
Mark Beebe
https://stevens-tate.com/wp-content/uploads/STLogo-websml-biggerAM.png
Mark Beebe
2016-05-05 11:24:13
2023-01-15 07:27:10
McDonald's Revolution in Retail Marketing