Local SEO Marketing In 2019: 5 Easy Tips To Dominate Local Search
If you sell products or services online, then SEO is an extremely important part of your marketing strategy; however, if you also happen to have a physical location, then you'll want to make sure that you address local SEO as well. A strong local SEO strategy will help ensure that you attract an audience that is located near your physical location, thereby increasing the odds that they will come visit in person. The following are five tips to help improve with local SEO marketing:
1. Claim Your Google My Business
Google My Business is a free platform that you can use to build your presence online. Since most people will do a Google search when looking for specific products, services, or businesses located in their area, having a Google My Business set up will make it easier for people in your area to find you. Setting up a Google My Business account is easy. If your business is already listed, you'll want to claim your business by going through the verification process.
2. Optimize Your "Google My Business"
The more complete your Google My Business account is, the more users will trust your business. There are a number of things that you will want to do in order to properly optimize your Google My Business page for local SEO marketing, including: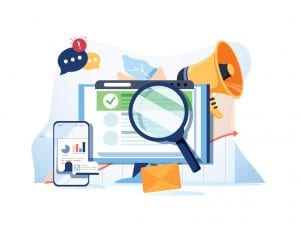 Choose the exact match of your business category

Write a description of your business and include location-based keywords

Make sure your NAP (name, address, and phone number) is correct

List your business hours

Add a logo to make sure your brand will be identifiable

Show interior and exterior photos of your business to prove your location is real

Add photos of your products and/or services
3. Collect More Customer Reviews
Customer reviews are important for a number of reasons. First of all, potential customers are going to look up reviews of your business before they decide to visit your location or order online. The more reviews you have, the more they will trust you (as long as those reviews are generally positive). You should also respond to negative reviews in a positive manner to try and resolve any issues customers had with your company. This showcases good customer service.
The more reviews you have, the more popular Google will assume your business is, which will help when it comes to page rankings. Last, but not least, the more reviews you have, the more real estate your business takes up on the SERP (search engine results page), thereby making it difficult for users to ignore.
Are there ways to increase SEO? With the help of Google Trends, anything's possible!
4. Publish Locally Optimized Content
You should also focus on local SEO marketing tactics when implementing your content strategy. To attract customers within your area to your website, create content that's more locally focused. This doesn't just mean using local keywords (such as the name of the city you're in or the neighborhoods nearby), but also writing content that actually has to do with the area you're located in. For example, content about local events or things to do near your store.
5. Optimize Website For Mobile Use
A significant amount of local searches are performed by customers who are on the go. They will search for certain businesses on their phones as a result. For example, if they're out running errands and get hungry, they may look for a nearby place to eat. As such, you'll want to make sure that your website is optimized for mobile use.
Local SEO marketing is a must if you have a physical location and want to increase your company's exposure throughout the area. Use these tips to improve your local SEO marketing efforts.
The landscape of the Internet is ever changing and Nicole has the energy and aptitude to keep Stevens & Tate Marketing out in front of the pack. She leads an enthusiastic team in strategic planning, development, search engine marketing, online promotions and advertising for the web.
https://stevens-tate.com/wp-content/uploads/iStock-997463524.jpg
832
1261
Nicole Wagner
https://stevens-tate.com/wp-content/uploads/STLogo-websml-biggerAM.png
Nicole Wagner
2019-06-11 00:00:00
2023-01-15 07:44:45
Local SEO Marketing In 2019: 5 Easy Tips To Dominate Local Search