5 Examples for Great Social Media Branding
Large brands such as Coca-Cola and McDonalds have the necessary budgets to invest in A-list influencers and over-the-top Super Bowl commercials. The same cannot be said for startups and small-business struggling to make ends meet. This, however, won't stop a smart marketer from taking a note or few from the best. Whether it's a clever use of shape and color, or a catchy slogan, here are some of the best examples of what branding is supposed to look like.
1. Social media branding done right: Airbnb
Most major brands invest heavily in large creative design teams to manage their social media branding efforts. Yet, Airbnb has managed to do a lot more than just share beautiful content to solidify their brand image. With Airbnb, the customers are the brand, both guests and hosts. The company doesn't manage nor does it own any of the properties hosted on its website and social media accounts. In fact, it only provides a forum where customers can promote and ultimately book some of the most breathtaking properties in the world.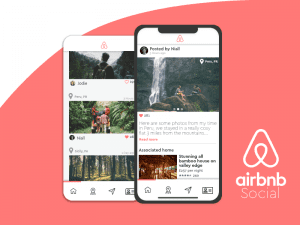 Businesses often rely on telling their brand story to sell products and services, but Airbnb lets the customers to tell their own stories. The travelers are using their platform and Airbnb regularly hosts them on its website and social media accounts. Going through the company's Instagram account and you'll quickly feel exactly what it's like to be in the customer's shoes. The company understands the importance of social media engagement and also provides links to each and every location displayed in their content. That way they are providing their followers with the opportunity to experience what their feed is offering using a single click.
2. Brand-driven storytelling: Nike
Nike is one of the few companies that have understood and successfully leveraged great storytelling for the last 20 years as a means of developing a brand soul. One of their most successful branding campaigns was led in 1999. That year the company released a minute-long commercial commemorating the fruitful career of none other than Michael Jordan.
What made the commercial such a wild success is the fact that Nike as a brand was not mentioned at all until the very last second of the film. In the last second we saw the logo and now iconic words "Just Do It" were superimposed over Jordan's high school photo. The entire minute-long commercial was dedicated to the great basketball player. That was something that was previously unheard of in the marketing industry.
Instead of trying to sell its products and push the brand down the throats of its consumers, Nike wanted to make an impression! The one that lasted and cemented their brand with an authentic, heartfelt story. Now, their logo and slogan can be found literally anywhere. From their clothing lines and twitter commercials to a viral video of Shia LaBeouf screaming "Just Do It" into the camera for a solid minute. Go figure!
But on a serious note, brand development requires a number of important steps, including logo design, color and font choice. All that play a major role in developing a brand voice and maintaining consistency. Finding the right agency using Google and similar search engines might be a stretch. You can find help using dedicated resources such as Design Rush which allows users to search and filter through leading branding experts based on budget, location, and their expertise.
Visual Storytelling Trends That Will Shape The Future For Marketers
3. Clever brand slogan: Dollar Shave Club
The team behind the Dollar Shave Club knows exactly what they're doing. Their "Shave Time. Shave Money." slogan is arguably the pinnacle of marketing related puns. Dollar Shave Club offers a shaving equipment and accessories as a cheap subscription service. It includes flexible shipment without the use of contracts and tricks involving fine prints. The company has cleverly incorporated two of the largest benefits offered by its service: convenience and cost.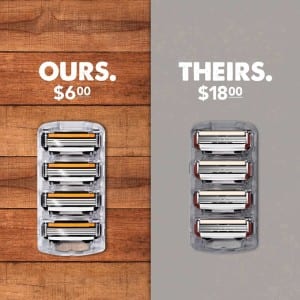 Its campaign is on point, quite funny and adequately defines its brand tone, voice and a pun-related sense of humor. Today, Dollar Shave Club is often being cited as a sponsor to various YouTube personalities and celebrities. That  only increases their reach and solidifies the company's brand authority.
4. Embracing new technologies: Domino's
Most brands fail to incorporate new technologies fast enough, but Domino's pizza has not only managed to do just that but also stay ahead of the curve by constantly innovating their mobile ordering experience. The company has incorporated Twitter into its ordering process by offering a "tweet-to-order" option and has recently introduced its very own messenger chatbot "DOM The Pizza Bot".
Their approach to social media branding is refreshing, to say the least.  They also pushed forward a campaign where users could visit their website, make their own pizza and share the design on different social media channels.
5. Customer experience is the best marketing: Slack
A collaboration tool used by teams to communicate and share files more effectively, Slack currently has over 2 million active daily users. What even more amazing is that the company didn't really launch a massive marketing campaign. In fact, its success can only be attributed to the outstanding customer experience. Slack not only receives but also responds to more than 10,000 Tweets per month. Their Twitter Feed is home to "Slack Wall of Love", a place dedicated to showcasing all the love Slack has been receiving from its users.
Your number one priority should always be building brand awareness. Regardless of whether you're working in business-to-consumer or business to business fields. Why? Because people would not be investing in your products and services unless they know and trust your brand. Social media branding is an effective tool for maintaining a consistent brand image in order to build authority, increase customer engagement, boost loyalty and make your brand memorable.
Angelina is a content creator with a background in digital marketing. She could also be tagged as someone who enjoys reading, vending machines and camping. She is positive and hard-working, but can also be very geeky.
https://stevens-tate.com/wp-content/uploads/iStock-875087626_lowres.jpg
667
1500
Angelina Harper
https://stevens-tate.com/wp-content/uploads/STLogo-websml-biggerAM.png
Angelina Harper
2018-11-26 14:07:21
2023-03-09 06:38:52
5 Examples for Great Social Media Branding