Social Media Solutions: Understanding The Importance of Social Media Engagement vs. Following
Social media has become one of the most important marketing platforms over the past decade or so. This is because there are hundreds of different social channels out there, all of which cater to different demographics. If you can find the right social platform, you will find it much easier to find and target niche audiences. However, one of the common mistakes businesses make is focusing too much on expanding their followers instead of engaging with the followers that they already have.
Why You Should Focus On Engagement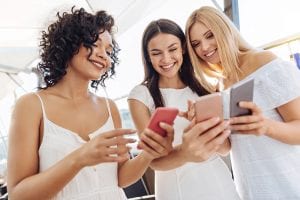 Social media allows you to connect directly with your audience. That said, spending your time developing relationships with your audience is much more important than increasing your brand awareness. There's a temptation to try and get the most followers as possible, especially if you're competing with similar businesses who are doing the same thing. This, however, will simply turn your marketing efforts into a popularity contest.
By spending your time engaging with your current followers instead of chasing the followers you don't have, you'll find that your efforts will have a more lasting impact. By building your relationship with your followers, you will eventually build trust and brand loyalty. This can translate to repeat sales from the same followers. Additionally, once you've built relationships with these followers, they will turn into brand ambassadors. They will engage with your content by sharing, liking, and commenting on it, thereby exposing followers in their personal social circles to your brand.
How to Improve Your Engagement
By focusing on engagement, your followers will help you get more followers. The following are a few Social Media solutions to help you improve engagement with the followers you have:
Post content on a regular basis – Use your social channels to post links to your newest blog posts. When followers share your content, it will be seen by more people. The

engagement level of your content

can also give you a good idea of what types of content resonates with your audience. This allows you to adjust your content strategy so that your content is more relevant to your specific audience.
Incite conversation – When posting content, ask a relevant question to what you've posted in order to encourage your followers to comment on it. You can also simply spark a conversation by asking general questions on your social pages. Twitter is a particularly effective channel for this strategy.

Always respond – If your followers take the time to post a comment, take the time to respond. Whether their comment was positive, negative, or simply just a response to something you posted, answer them. This shows them that you are actively engaged and that the conversation isn't one-sided. Be sure to respond to negative comments as well instead of simply deleting them (unless they are purposefully inflammatory). Your followers will appreciate your efforts to deal with negative experiences in a friendly and professional manner. In this way, social media can be quite effective as a PR tool.

Hold contests – Social media contests are a great way to engage followers. You could do something simple like hold sweepstakes in which only followers can enter, or you can hold a contest that's a bit more involved. For example, you could hold a photography contest on

Instagram

. You can even have the winner voted on by the followers themselves.
Social Media Solutions = More Followers
Social media solutions that improve engagement will eventually help you to increase your followers as well. Be sure to use these social media solutions to help improve engagement with followers on social media.
The landscape of the Internet is ever changing and Nicole has the energy and aptitude to keep Stevens & Tate Marketing out in front of the pack. She leads an enthusiastic team in strategic planning, development, search engine marketing, online promotions and advertising for the web.
https://stevens-tate.com/wp-content/uploads/Depositphotos_52467161_l-2015-1200x767-1.jpg
613
960
Nicole Wagner
https://stevens-tate.com/wp-content/uploads/STLogo-websml-biggerAM.png
Nicole Wagner
2023-01-24 09:30:09
2023-01-24 02:23:48
Social Media Solutions: Understanding The Importance of Social Media Engagement vs. Following