If you have a website for your business, then there's a good chance you're familiar with SEO (search engine optimization). You know how the use of keywords can help increase your site's exposure on search engines. However, when it comes to digital marketing, SEO is not the only valid strategy. In fact, there are many types of digital marketing tactics that you should consider employing in order to boost awareness of your brand and bring in more web traffic. The following are a few examples of different types of digital marketing to consider implementing into your marketing strategy:
Social Media Marketing
By creating a social media marketing strategy, you have the opportunity of reaching more people to expand your audience. Of course, you will need to do more than just set up some social media pages. First, you need to figure out where your target audience can be found. Different people use different social media channels, after all. For example, you're probably not going to find an audience over the age of 60 on Snapchat. In addition to setting up a social page, you'll need to post content, engage with relevant content posted by others, interact directly with users, and more. Social media is a great way to not only engage directly with your audience, but also to listen to what they have to say.
PPC Advertising
If you're a smaller business owner with limited resources, the idea of PPC advertising may not appeal to you at first glance. After all, it stands for "pay per click." While creating a website doesn't cost much–and neither does running a social media page or posting content to a blog–eventually, you're going to need to invest money into those strategies in order to expand your company's reach. However, PPC advertising is something you have to put money into right away. Yet it's something you should strongly consider doing because of how cost-effective PPC advertising is.
The way PPC ads work is you create an ad based around a keyword. You then bid on that keyword. Depending on your bid, your ad may show up on the results of someone who performed a search using your keyword. What makes these PPC ads so effective is that even though they show up and the user sees them, you don't have to pay for them unless they click on the ad — and the amount you pay is the amount you bid. You're basically only paying for results. You can run PPC ads on most search engines, although Google Adwords is the most popular. Social channels, such as Facebook, also offer PPC advertising.
Email Marketing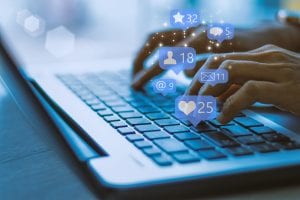 Email marketing is one of the oldest types of digital marketing. It's still around because of how effective it is. It has also evolved significantly over the years. Email marketing is a great way to build relationships with your leads and nurture them through the sales funnel. The data you collect from your email marketing efforts can be incredibly insightful as well. For example, you can track email open rates, click-through-rates, and more to identify what kind of content your recipients care most about and what types of calls-to-action are working. Email marketing also helps you maintain the relationships you've built with existing customers, turning them into brand evangelists.
Content Marketing
Last, but not least, is content marketing. Without content, none of your other digital marketing strategies are even possible. Content is king, as they often say. You need to create content that is relevant to your audience and that is helpful — not overly promotional. Content helps inform your audience about their problems and needs as well as introduce them to potential solutions. Common types of content that can be posted on your blog, your website, your social pages, in your emails, and more, include articles, images, videos, infographics, eBooks, white papers, and much more.
These four strategies along with SEO make up the five main types of digital marketing strategies you can implement. However, these strategies are incredibly broad. Each strategy can include hundreds of different tactics, if not more. Not to mention that for each type of digital marketing strategy to be as effective as possible, they need to work together. For example, social media marketing depends heavily on content marketing, while content marketing depends heavily on SEO. If your current focus is on SEO, consider implementing these other types of digital marketing strategies as well.
Dan Gartlan helps companies of all kinds drive their business initiatives and achieve their goals with strategic marketing programs that deliver results. As President of Stevens & Tate Marketing, he has over 20 years experience across various industries, and continues to share his expertise to build brands nationwide.
https://stevens-tate.com/wp-content/uploads/types-of-digital-marketing-strategies-e1568924759881.jpg
1365
2048
Dan Gartlan
https://stevens-tate.com/wp-content/uploads/STLogo-websml-biggerAM.png
Dan Gartlan
2019-10-07 08:00:42
2021-07-24 01:23:54
Types of Digital Marketing Strategies Your Business Should Use