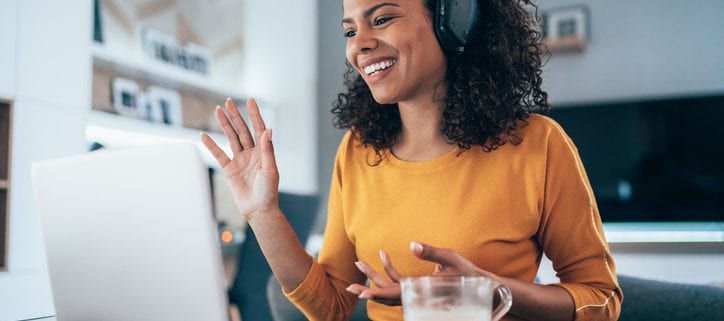 7 Tips For Success When Working Remotely
More and more employees are working remotely these days, in part due to the major strides made in technology. Not only do most workers have access to a home computer, but they also have access to countless software solutions that allow them to communicate and collaborate with coworkers and managers from home. It's estimated that between 2005 and 2017, the number of people in the U.S. that worked remotely increased 159 percent. In early 2020, roughly 4.7 million people worked remotely. As of April of this year, those numbers have likely increased substantially.
If you are working remotely for the first time, making the adjustment can be challenging. This is especially true if you've gone into work your entire life. You'll quickly find that working remotely provides you with much more freedom and flexibility, but that it will require much more discipline in order to stay motivated and be productive as well. With that in mind, the following are a few tips on working remotely:
1. Establish A Routine
When you went to work, odds are you had a morning routine before you left as well as an evening routine right when you got back. Such routines are helpful because they allow you to mentally prepare yourself for when to start and stop working. Without clear routines, it can be difficult to get started, which can hurt your productivity. The last thing you want is to keep putting off work to the point where you don't get started until 3:00 PM and then end up working all night long.
Establish a routine, such as getting up at a certain time, taking a shower, eating breakfast while you watch the news, and then get started by checking your email. Don't forget to have a routine for when you stop working as well, such as taking your dog for a walk at 6:00 PM.
2. Set Up An Office Space
If you don't have a dedicated office space, it will be a challenge to stay organized and to get yourself into the right mindset to be productive. Working from your couch in the living room is also not a great idea since you'll have to fight off various distractions. If you have a spare bedroom, such as a guest room, consider turning it into your office space. If you don't have an extra room, try to find a quiet space in your home where you can permanently set up — even if it's just a table in your kitchen or a desk in your bedroom.
3. Maintain A Regular Schedule
A regular schedule is important for your productivity. Otherwise, you may end up working a few hours one day and 12 hours the next, which isn't going to be great for your work-life balance. Without a regular schedule, it might be difficult to stay productive as well. Not to mention that coworkers, managers, business partners, and clients may find it difficult to reach you if they don't know when you're working.
4. Create Home Rules
If you're not the only person at home, then you need to set some clear rules, whether you have roommates or a family. Let them know when your work schedule is and where you'll be working so that they do not disturb you.
Enjoy The Article: Creative Marketing Solutions 
5. Give Yourself Breaks
Just because you're at home doesn't mean you don't get to take breaks. Take the same amount of breaks you would take if you were working at the office. Breaks are important as they will help keep you from wearing yourself out working. If you don't take breaks, your work will begin to suffer.
6. Get Out Of The House
Now that you're working from home, you're going to find that you're always at home. To keep yourself from getting cabin fever, be sure to get out of the house. For example, start your day with a run through the neighborhood, use one of your breaks to go for a brief walk, or end your day with a long walk.
7. Communicate Clearly
Because you're not in the same space as your coworkers and managers, communication is key. Clearly communicate when you're working, what you're working on, what your needs are, and more. Regular communication throughout the day will help keep everybody on the same page. It will also help prevent miscommunication, which is something that does tend to occur when everyone is working remotely.
These are just a few tips that will help people adjust to working at home and allow them to work remotely with greater success. Here at Stevens & Tate, we understand the challenges of working from home and are currently one of the many companies that have transitioned to working remotely. We are still capable of providing all of our services, from digital marketing to media coordination, and we will continue to work closely with our clients via a variety of communication methods, including the use of web conferencing tools and more traditional methods, such as phone and email.
Mark Beebe oversees all current clients. His secondary focus is leading the creative with original thinkers who provide innovative processes and insightful answers for clients' marketing needs. His 30+ years has garnered the team to over 50+ national and international awards. As a partner, Mark, looks for unusual solutions to bring smart results and metrics to your bottom line.
https://stevens-tate.com/wp-content/uploads/Working-Remotely1.jpg
483
724
Mark Beebe
https://stevens-tate.com/wp-content/uploads/STLogo-websml-biggerAM.png
Mark Beebe
2020-04-28 09:00:31
2020-04-29 11:46:35
7 Tips For Success When Working Remotely