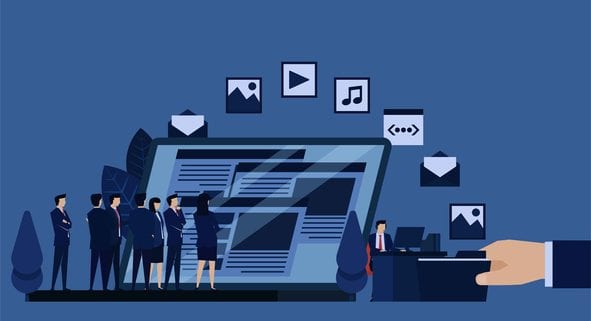 Why Conducting A Content Audit Is Important For Your Company In Today's Marketing Environment
As the years go by, your business's content audit is going to evolve in a variety of different ways. Your audience may change, your products or services may change, your message may change, and your branding may change. These elements may not change much, but if your company is around for more than a few years, odds are that something will change in some way. In some cases, as we're seeing today amidst a world that's staying at home during a pandemic, the business environment changes.
All of this means that the content you've been generating may change as well. As a result, it's important that you perform a content audit to make sure that existing content remains effective and that new content helps to address your goals.
Performing a Content Audit
A content audit is essentially a thorough evaluation of the existing content living on your website. You will want to make sure that all of your content aligns with your current brand identity and messaging. Not to mention that if your target audience changed, it means that some of your older content may no longer be relevant. It's one of the main reasons you'll want to develop your buyer personas if you haven't already. You should also look for content that has outdated information. The last thing you want to do is provide content that's backed by data that's inaccurate because it's outdated. In many cases, you can just update this content to ensure that it's accurate.
In addition to removing content that is no longer relevant and updating content to ensure it's accuracy, you should also identify gaps in your content library. For example, you may find that you have a significant amount of content that targets three of your four buyer personas; however, you have very little content targeting that fourth persona. You will want to fill in this gap by focusing your content creation on that fourth buyer persona. You may also find gaps in regards to the type of content you're creating that you'll want to address as well.
Enjoy The Article: The Importance of Lead Generation and Content Marketing Agencies 
Adjusting Your Strategy During COVID-19
The marketing environment has changed drastically. For example, you can no longer attend trade shows or in-person events in order to generate awareness about your brand. The production of new video content is limited as well. However, online marketing remains effective. In fact, if you adjust your content strategy accordingly, you may be able to reach even more potential leads. This is because more people are at home than ever before. As a result, many of these people have more time to explore your content. With that in mind, the following are a few types of content you should focus on creating for your audience during COVID-19:
If you're not regularly producing and promoting new blog content, then you should focus on doing so. Begin publishing content more often since your audience is going to have more time on their hands. Don't shy away from tying your content in with current events (specifically, COVID-19) either. The more helpful your content is, the better.
Since your website will become a much more prominent part of your marketing strategy than ever before, invest in live chat and chatbot features. Online chat features are a great way to keep audiences engaged. They also help provide important information that can guide your leads through their website experience.
Webinars are a great way to educate your audience about various topics. They also tend to be more engaging than other types of content. Webinars don't require any production value — any of your company's leadership can film a webinar out of the comfort of their own home. The success of a webinar is mostly dependent on the information provided. Additionally, viewers can ask questions during live webinars, making them all the more engaging.
Virtual events can be similar to webinars; however, webinars don't necessarily have to be live. By hosting a live virtual event that requires registration, you can generate more interest. People are more likely to tune in if there's a chance of missing out, after all. There's also a good chance that you'll draw a larger audience in today's environment since more people will be available to attend. There are a lot of different types of virtual events you can hold, such as Q and A sessions with industry influencers or CEOs.
There are still opportunities for effective marketing during COVID-19. First of all, make sure that you perform a thorough content audit. Doing so will ensure that all existing content supports your current marketing goals. You will also be able to identify any gaps in your content marketing efforts that need to be addressed. While some of your marketing efforts will be limited, you can use this opportunity to focus on creating content that will be effective at increasing engagement during COVID-19. For example, by producing more blog content, virtual events, and webinars.
Mark Beebe oversees all current clients. His secondary focus is leading the creative with original thinkers who provide innovative processes and insightful answers for clients' marketing needs. His 30+ years has garnered the team to over 50+ national and international awards. As a partner, Mark, looks for unusual solutions to bring smart results and metrics to your bottom line.
https://stevens-tate.com/wp-content/uploads/Content-Audit1.jpg
591
591
Mark Beebe
https://stevens-tate.com/wp-content/uploads/STLogo-websml-biggerAM.png
Mark Beebe
2020-05-13 09:00:27
2021-05-30 22:19:22
Why Conducting A Content Audit Is Important For Your Company In Today's Marketing Environment