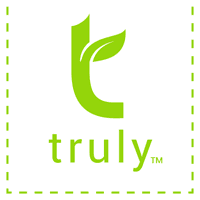 Building a brand from scratch
Truly® dark chocolate supplements are, well, truly one of a kind. Conceived by Golden Tree Brands, LLC, Truly's trubites™ were one of the first vitamin products to use confectioners ingredients as a healthy and indulgent alternative to caplets, pills and gummies. When it came time to launch its truly revolutionary supplements nationwide, Midwestern-based Golden Tree sought out brand experts who also had extensive package design experience. Stevens & Tate Marketing fit the bill.
Building the brand from scratch, Stevens & Tate began by creating the logo, trubites® name, and "Indulge In Your Health®" tagline. Next came packaging inspired by high-end cosmetics and spas to appeal to female beauty shoppers and healthy lifestyle consumers. See-through bottles allowed the innovative heart-shaped chocolates to be seen for instant allure while benefit callouts, a fashion-inspired tonal palette, and inviting green cap made the jars pop on the shelf.
To educate consumers on the new products, Stevens & Tate developed a vibrant and energetic website using crisp and colorful photos showing expression, engagement and enjoyment. Copy had a hint of whimsy while reinforcing the "tru" nature of the healthy chocolate supplements. Driving visitors to the website was achieved by a two-pronged social media campaign. Stevens & Tate targeted influencers, offering them free samples in return for reviews and blog mentions. The agency also posted and advertised on Facebook with messaging focused on how trubites made taking supplements an indulgent and delightful experience that health conscious individuals could look forward to each day.
This cohesive brand launch and marketing campaign landed trubites on Walgreens and Shopko shelves across the country. Truly quickly followed with online sales direct from its website and via Amazon.