How to Leverage Influencer Marketing for Your Brand's Success
Starting a business is one challenge, and building it into a success story is another. Several startups fail due to factors ranging from poor planning and ineffective marketing strategies to economic downturns and operational inefficiencies. As far as marketing is concerned, there are several lessons to learn from some of the most successful companies. In the sections below, we'll discuss influencer marketing and how influencer collaboration with the right influencers can be a recipe for business success. You'll also learn how to maximize influencer collaborations and make this marketing strategy work for you.
What is Influencer Marketing, and Why Does it Matter?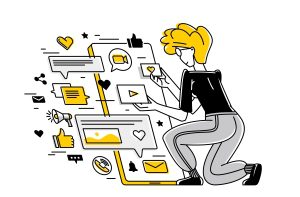 As the name suggests, influencer marketing is a technique where you partner up with a popular figure or celebrity to help promote your products or services. Influencers can be individuals or a group of people with a huge following, especially on popular social media platforms such as Instagram, Facebook, Twitter, YouTube, and TikTok.
Whether your business is a startup or an established entity, influencer marketing can help drive brand awareness, increasing traffic and conversions. It's worth noting that every business is unique, and how effective influencer marketing will be for your business depends on factors such as:
Nature of the business. Beauty, lifestyle, and fashion businesses have a natural fit with influencers, while those in the B2B sector may find this marketing technique challenging.
Online presence. A robust online presence, characterized by a well-designed website and active social media profiles, will attract the best influencers and may translate to better conversions.
Target demographics. The influencer's ready audience should be your preferred target market. Otherwise, a mismatch will see your marketing campaign struggle.
Choice of influencer. Consider the influencer's values, reputation, and audience engagement before striking a partnership deal. More on this later.
Besides having an engaged and loyal following willing to buy your products or services, influencers put a personality and face to your brand, making it more reputable and trustworthy. The right influencers will also push your product or services to a broader audience, thanks to the varied platforms they'll use to promote your brand.
How Can You Leverage Influencer Collaborations to Drive Business Success? 
Most influencers have great ideas on how they can partner with you to market your brand. Even so, you may specify how you want them to promote your products or services. And while there's no wrong or right way to promote your brand, some influencer marketing techniques are more effective than others. Here are a few ways to leverage influencer marketing for maximum impact:
Try Podcast Endorsements
According to PEW research, 49% of adults in the United States have listened to a podcast in the past 12 months. Therefore, it makes economic sense to partner with podcast hosts to promote your brand among their loyal following. To make this strategy work best, you want to sponsor specific episodes of several podcasts your target audience is already subscribed to.
Use Influencer Content as Paid Ads
Standard ads on social media platforms rarely convert since everyone sees them as a nuisance. However, this won't be the case if you partner with an influencer and let them create a social ad with their face or voice on it.
Use Brand Ambassadors 
Over the years, businesses have used brand ambassador programs to build trust and win customers. With this technique, companies tap into loyal customers who already use their products or services and partner with them to recommend their brand to their following or audience. This program works well when the loyal customer you want to pick has a huge following that can convert easily.
Try Contests and Giveaways 
With this technique, you'll provide your influencers with a product or service they can reward or give to their followers. You can modify this technique to have the influencer's followers like your brand's page or post. The giveaways may come in the form of contests or challenges meant to boost social media engagement, brand following, and awareness.
Gift Influencers and Obtain Honest Reviews 
Another way to leverage influencer marketing is to gift an influencer your product or provide them with your services for free and let them give their followers an honest review of what they think about your product/service. If the influencer thinks your product/service is excellent, they'll recommend it to their followers. Otherwise, they won't.
How to Identify the Right Influencers for Your Target Audience 
Before comfortably trusting an influencer to promote your brand, you must follow due process throughout the sourcing and selection stages. The right influencer for your brand is someone you can trust and who believes in your business. Here are a few things to look out for when choosing an influencer to partner up with:
Relevant audience. Not all influencers have an audience that resonates with your business or target demographic. Do your research to ensure you partner with someone who will directly add value to your business.
Brand Values. The right influencer will have values that resonate with your brand and target audience. You can check the influencer on social media platforms to learn more about their values and belief systems.
Communication and professionalism. One of the pillars of the 4Cs marketing model is effective communication. Customers always want to know how buying your product will benefit them, meaning the influencer should do a great job selling your brand. Similarly, you want to work with a professional influencer who has strong communication skills.
Content Quality. As much as the influencer is authentic, trustworthy, and meets the brand alignment metrics, you also want to ensure the content they produce meets your expected quality standards.
Bottom Line
Whether turning your employees into influencers or picking celebrity figures to partner with, influencer marketing is generally a true and tested technique. The goal is to choose a trustworthy person with a reasonable social following committed to walking the marketing journey with you, one step at a time. Use the tips above to guide you throughout the influencer marketing campaign, and where necessary, seek professional help from a reputable marketing company.
The landscape of the Internet is ever changing and Nicole has the energy and aptitude to keep Stevens & Tate Marketing out in front of the pack. She leads an enthusiastic team in strategic planning, development, search engine marketing, online promotions and advertising for the web.
https://stevens-tate.com/wp-content/uploads/iStock-1469827450-scaled.jpg
1326
2048
Nicole Wagner
https://stevens-tate.com/wp-content/uploads/STLogo-websml-biggerAM.png
Nicole Wagner
2023-09-13 11:54:23
2023-07-11 13:55:19
How to Leverage Influencer Marketing for Your Brand's Success