Up Your Email Engagement: Consumer-Oriented Strategies
Email marketing may be one of the oldest forms of online marketing, but it has not lost its relevance. Despite the fact that many businesses are focusing more on social media marketing and SEO, email marketing should still be a priority for any online marketing strategy. The use of email can help you deliver valuable resources and promotional offers to your audience. However, it's vital that you keep your leads engaged in order for your email marketing strategy to be successful. With that in mind, the following are a few tips to help boost email engagement.
1. Send Emails That Offer Value
The most important thing to remember when building an email marketing campaign is that your content matters. Poor content that offers little value to your recipients isn't going to do anyone any good. Your emails have to provide value in order to engage your leads. There are two ways you can do this:
Provide Educational Content – Generally speaking, you should avoid sending too much promotional material through email. The more ads you send, the more likely your leads are to unsubscribe. As such, focus on creating content that is informative and helpful. Such content will help build your brand authority, thereby boosting brand trust. The more they trust you, the more attention they'll pay to what you have to say.
Target Your Promotional Offers – Although you should focus more on educational content, that doesn't mean you can't ever promote your products or services. However, when you do email a lead a promotional offer, make sure that it's relevant to their needs. Target your offers based on the data you have from them (such as purchase history) and the actions they take (such as the type of content they've downloaded in the past).
Email marketing continues to evolve with the times. Here is what to expect.
2. Segment Your Email Engagement List
It doesn't matter how high-quality your email content is if it's not relevant to the person you send it to. For instance, your email about what to look for in high-quality dog food isn't going to be useful to a cat owner. Use the data you collect from your subscription forms to segment your email list. This will not only ensure that you send your emails to the relevant recipients, but also that you're creating content that addresses every different part of your audience.
3. Personalize Your Emails
Personalizing your emails will make it easier for leads to relate and engage with your brand. Segmenting your email list will go a long way towards personalizing your emails. However, there's more to do than just that. For instance, write in a more personal tone of voice using the second person. Use humor where appropriate. Also, send emails that are neither promotional nor educational every once in a while to celebrate a special occasion. For example, a personalized birthday email is always appreciated. You could also send out emails for specific holidays as long as they aren't religious in tone.
4. Design Your Emails Effectively
The aesthetic of your email matters. You can't just send a regular default text email to your leads and expect them to be intrigued by what you have to say. Use colors and images that are relevant to your brand and your content. Use CTA buttons that stick out. You can even add GIFs, which make your emails more visually dynamic and which will draw the eye. According to the results of a Dell email marketing campaign, the use of GIFs increased their click rate by 42 percent and their conversion rate by 103 percent.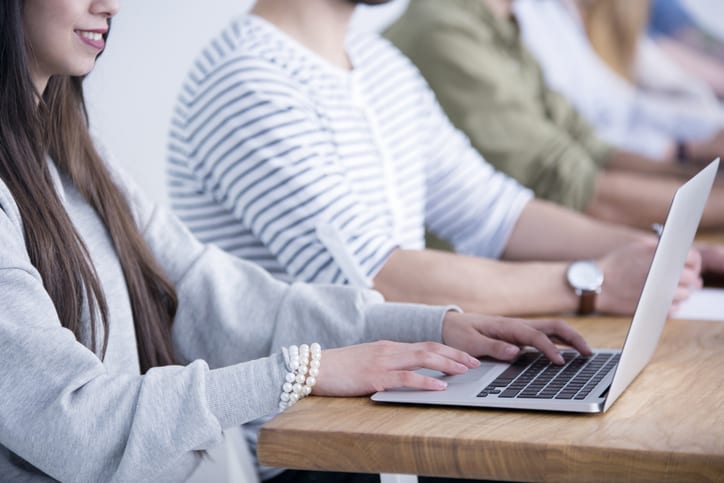 5. Send The Right Number Of Emails
This can be tricky to figure out. Send too many emails, and you may be marked as spam. Send too few, and your leads may forget about you. Generally speaking, it's better to send too many than too few. Monitor your unsubscribe rate to get an idea of whether you're sending too many. If you have a high unsubscribe rate, you may need to cut back on how often you're sending out emails.
6. Track Performance And Optimize Your Email Engagement
Finally, analyze your email metrics to identify elements that are engaging and elements that are not. For instance, compare the performance of emails using images versus those that don't. Compare the titles of your emails to see which results in a higher open rate. Use heat maps to figure out what parts of the email engage readers most. This information can be used to optimize future emails to boost engagement.
These are six effective methods for creating a more engaging email marketing campaign. The more engaged your email recipients are, the better your chances are of converting your leads into customers — and of converting those one-time customers into loyal long-term customers.
The landscape of the Internet is ever changing and Nicole has the energy and aptitude to keep Stevens & Tate Marketing out in front of the pack. She leads an enthusiastic team in strategic planning, development, search engine marketing, online promotions and advertising for the web.
https://stevens-tate.com/wp-content/uploads/Screen-Shot-2017-08-08-at-9.57.53-AM.png
571
855
Nicole Wagner
https://stevens-tate.com/wp-content/uploads/STLogo-websml-biggerAM.png
Nicole Wagner
2021-04-29 12:00:37
2021-07-29 06:22:43
Up Your Email Engagement: Consumer-Oriented Strategies