How to Incorporate Email Marketing into B2B Campaigns
Email marketing has been a popular strategy for decades, and there's no sign of it slowing down as an effective marketing tactic. However, as a B2B business, successful B2B email marketing can be challenging. When it comes to B2C email marketing, many companies simply use it to promote new products or to advertise special promotions. This won't work with B2B marketing. Additionally, because most companies do embrace email marketing, you're going to have to work a little harder to stand out from the competition and engage your leads. With that in mind, the following are a few B2B email marketing tips:
Focus On Educational Content
Long-term relationships are much more important for B2B businesses than B2C businesses (although you can't discount their importance to B2C companies either). As such, the bulk of your email content should focus on providing your leads with information that is useful to them. The more informed they are about the problems you solve or about the industry you're in, the more comfortable they will be making a buying decision down the line. Not to mention that you'll position yourself as a brand authority that they can trust.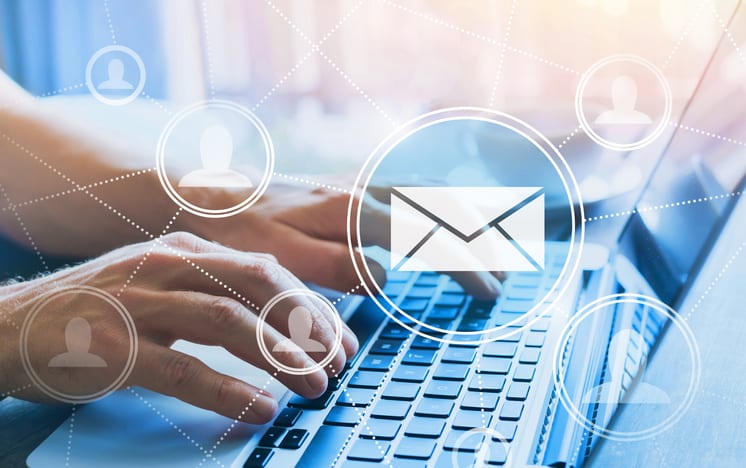 Personalize Your Emails
Don't make the mistake of assuming email personalization starts and stops with addressing the lead by name. Personalization goes way beyond that. Use the information you have on your subscribers (gained from opt-in forms, questionnaires, purchase history, and more) to segment them into different lists. You can then target specific subscribers using content that is relevant to each list. Doing so will increase the chances of engagement and will make it easier to nurture your leads.
Use Automation
As mentioned, automation can be used to segment your email list to ensure that your email content is personalized. However, automation can be used in a variety of ways to further boost engagement. For instance, you can set up email triggers based on actions your subscribers take. When they download something from your site, make a purchase, or sign up for a webinar via one of your emails, it will trigger a relevant email to be sent right after the action was taken.
You can schedule emails using automation to be sent at specific times and on specific days. This allows you to reach your users based on when they are most active on their email accounts.
Embrace Drip Email Campaigns
Email drip campaigns consist of a chain of emails designed to follow one another in a specific order and on a scheduled timeline. Usually, a drip campaign will consist of around five emails sent at 3 to 5-day intervals. They are effective because they build on one another, thereby ensuring relevance and generating more engagement. Drip campaigns are designed to welcome new leads, educate them, and finally to encourage a purchase.
Don't Spam Your Subscribers
Even if you're not sending overly promotional emails, you don't want to overdo it. Your emails may be chock-full of useful and informative content, but if your recipients are receiving it on a daily basis, they're going to start ignoring you. When that happens, it will be more difficult to reach them with content that they would actually find helpful. Some subscribers may even unsubscribe, resulting in lost leads.
Re-Engage Inactive Subscribers
Every once in a while, take the time to identify subscribers who haven't engaged with your emails for some time. Don't just assume that they are a lost cause. While some may have lost interest, others may simply have forgotten about your brand. Send out re-engagement emails that give these subscribers a reason to re-engage with you. Such emails can include polls and surveys, which can help you identify why they became unengaged in the first place. You can also use special offers based on their purchase history to generate interest in your business again.
Market Your Email Subscriptions
For your B2B email marketing campaign to be successful, you need to have leads to actually email content to. Besides having email subscription forms on your website, you should actively promote your email subscriptions on your blog and on social media. You can even gate some of your long-form content (such as ebooks and whitepapers), requiring leads to sign up to your email list in return for access to your content.
B2B email marketing can be an incredibly effective way to engage and nurture leads. Make sure to keep these 7 tips in mind for a successful email marketing camp
Dan Gartlan helps companies of all kinds drive their business initiatives and achieve their goals with strategic marketing programs that deliver results. As President of Stevens & Tate Marketing, he has over 20 years experience across various industries, and continues to share his expertise to build brands nationwide.
https://stevens-tate.com/wp-content/uploads/3-Reasons-Email-Campaigns-Remain-The-Best-Marketing-Tool.jpg
812
1292
Dan Gartlan
https://stevens-tate.com/wp-content/uploads/STLogo-websml-biggerAM.png
Dan Gartlan
2021-04-14 08:55:27
2021-07-23 07:17:51
How to Incorporate Email Marketing into B2B Campaigns