The Importance of Understanding and Mapping the Consumer Journey
Every consumer will go through different steps of consideration and purchase throughout the life cycle of a brand or service. In the past, the consumer buying cycle was explained by four stages: awareness, interest, evaluation, and purchase.
Modern marketing strategies put more emphasis on the emotional relationship brands have with their customers and how this relationship is developed throughout time. This new approach raises the importance of understanding how consumers move through different stages that will influence their behavior. As such, consumer journey mapping is a vital part of your marketing strategy.
Why is Consumer Journey Mapping Important?
Journey Mapping is a technique used to map out the journey of an average consumer throughout their buying cycle. It can help you uncover your UX gaps, identify weaknesses in your strategy, or even find ways of improving customer retention.
Journey mapping is an opportunity to think critically about how your customers discover, experience, and interact with your brand. Consumer journey maps can be complex, but the basic premise behind them is simple: visualize the entire customer journey through each user touchpoint (channel) imaginable.
What are the Stages of the Consumer Journey?
The following are the five stages of the consumer journey and the strategies you should implement to engage and nurture consumers through each stage: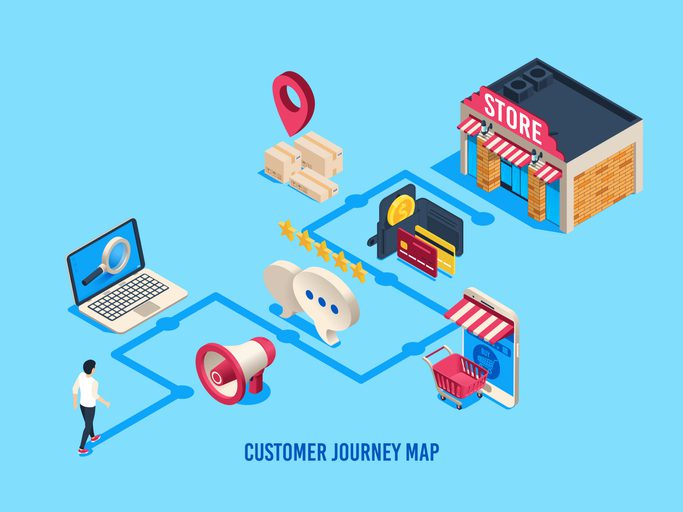 1. Awareness Stage
The awareness stage is where consumers learn of your existence. There are multiple strategies that you can employ to generate awareness of your brand. Running TV commercials, publishing print ads, maintaining a social media presence, optimizing your website for SEO, and building relationships with influencers can all help to generate awareness.
The entire point of the awareness stage is to introduce your brand and what you do to those who aren't familiar with it, whether they're looking for a specific solution right now or not. Either way, it helps set consumers up for the next stage.
2. Interest Stage
It's during the interest stage that consumers begin doing research into the problems or challenges that they have. At this point, they are simply looking to educate themselves. They may not be aware of what the solution to their problem looks like. In fact, they may not be completely clear about the challenge that they have.
To address consumers in this stage of their journey, you need to have information available that can help educate them. It's why many businesses host a website blog and regularly publish content that educates and advises potential leads. By creating such content, you not only help nurture consumers through this stage, but you also help establish your brand authority, thereby building trust in your business.
3. Evaluation Stage
During the evaluation stage, the consumer will start thinking about what solution best fits their needs. The decision at this point is still up in the air and they're weighing their options. At this stage, consumers may be more open to hearing about your products and services, which they may be comparing with those of your competitors.
To reach consumers during the evaluation stage of their journey, you need to showcase your unique value proposition. You can do this through content creation (by publishing white papers and ebooks, or by filming product demonstrations) or through offers (such as free trials or discounts on products).
It's crucial that you establish a stellar reputation at this stage as well since consumers will be looking at reviews. As such, encourage past customers to leave reviews on Google, Yelp, and other review sites. Additionally, set up a testimonial page on your site.
4. Purchase Stage
At this stage, the consumer is close to buying your product. You'll want to make it as easy for them as possible to make a purchasing decision. If you have an e-commerce page, make the checkout process as easy and streamlined as possible. Use an online chat feature that allows them to get in touch with a salesperson as soon as possible. Send automated email reminders to consumers who have abandoned their carts without checking out.
You should make it as easy as possible for consumers to make a purchase — and remove any roadblocks that can prevent the purchase.
5. Post-Purchase Stage
The consumer journey doesn't end with a purchase. In fact, it will never end. You'll want to make sure that they become long-term customers, which is why you'll want to continue to nurture them using an email marketing campaign to build brand loyalty. You can even set up a brand ambassador program to help strengthen your relationship with consumers post-purchase.
Mapping the Consumer Journey is Crucial to Your Success
Mapping the consumer journey is important because it gives you a better understanding of how consumers act and how you can help nurture them towards a purchasing decision. By mapping out your consumer journey, you'll be able to personalize your engagement with them more effectively and identify vital touchpoints that can help improve your conversions.
Dan Gartlan helps companies of all kinds drive their business initiatives and achieve their goals with strategic marketing programs that deliver results. As President of Stevens & Tate Marketing, he has over 20 years experience across various industries, and continues to share his expertise to build brands nationwide.
https://stevens-tate.com/wp-content/uploads/consumer-journey.jpg
514
680
Dan Gartlan
https://stevens-tate.com/wp-content/uploads/STLogo-websml-biggerAM.png
Dan Gartlan
2022-01-31 11:10:38
2022-02-28 13:59:08
The Importance of Understanding and Mapping the Consumer Journey