Inbound Marketing Strategies To Use During The Pandemic
We are well-aware that the coronavirus has economically affected many companies drastically. However, what matters more is what your company is doing to respond to these trying times. With many states following the stay-at-home order, people are at home surfing the web now more than ever. This means there is a greater chance that they will end up on your company's website. It is vital for your company to take advantage of this pandemic and implement more effective inbound marketing strategies to show consumers that you are still there for them and ready to work.
Have a Clean, Easy-to-Navigate Website
Your company's website is a sales tool that can be viewed by millions of people around the world at any time of the day. It is crucial that it contains relevant, useful information as well as inbound marketing solutions such as blog articles, informative content, videos, images, and other tactics. This is especially important now, while technology use has increased because of the pandemic. There is a higher chance of someone finding your website. You want your website to provide the right content that will have consumers returning to your site. Your website should be clean, easy to navigate, and tell a story. In order to accomplish this, you must provide quality content.
Post Useful & Informational Content
Content marketing is one of the most important parts of inbound marketing. It grabs the viewers' attention and makes them want more. It is central that your company posts informative, easy-to-understand content that consumers can use as a reference and keep coming back to.
While we are in this pandemic, content is an essential part of your inbound marketing strategy since your website's content will be the first thing consumers see. It is key to provide frequent, valuable blog posts and marketing on social media.
It is also important to take into consideration the buyer's journey. Does your website lead a potential buyer down an easy-to-navigate path to complete a purchase? You need content to educate consumers when they are in the early, middle, and end of their buyer journey. Make sure you provide helpful content that includes information about your product and frequently asked questions to ensure that the potential buyer has all the information they need to feel confident about buying from you.
Enjoy this article: How To Develop A Solid Inbound Marketing Strategy
Market and Engage with Prospects While Social Distancing
Conferences and trade shows are canceled and travel is restricted. It is critical that you know some ways you can still market and engage with prospects:
Online Events: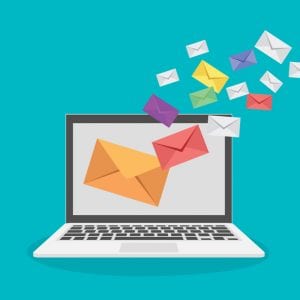 It is common that marketing teams have a few in-person events they attend in a year such as conferences or trade shows. These events are important to attend because they bring in leads. However, many have been cancelled because of the pandemic. With no in-person events to attend, it is important that your company does not just sit around and wait for the next one. Instead, launch a webinar series. Your consumers and prospects still want information, so give it to them!  You can schedule webinars far in advance so people have time to sign-up. You should continue to use webinars even after the pandemic is over to ensure more leads and sales opportunities.
Engage with Followers on Social Media:
With all the current craziness and ever-changing news, people are constantly checking their social media. Now is the time to post relevant, attention-grabbing content and engage with your followers. Your social media channels should be up to date and provide useful content. Followers should be able to tell that your company frequently uses its social media sites and is keeping up with everything going on. The main goal of using social media is to lead followers back to your company's website, so make sure to post content that includes a link back to your website.
Using Live Chat:
Since many people are home now, they may expect you to respond to their live chat faster than usual. It is important that you set up a chat to answer quick questions from consumers. Chat tools such as live chat and chat bots bring up upgraded, next-level website experience for consumers. You have to plan and organize the way your chat is set up. You must consider what page it goes on, who receives the live chat questions, etc.
The landscape of the Internet is ever changing and Nicole has the energy and aptitude to keep Stevens & Tate Marketing out in front of the pack. She leads an enthusiastic team in strategic planning, development, search engine marketing, online promotions and advertising for the web.
https://stevens-tate.com/wp-content/uploads/inbound-marketing-1.jpg
483
724
Nicole Wagner
https://stevens-tate.com/wp-content/uploads/STLogo-websml-biggerAM.png
Nicole Wagner
2020-06-05 09:00:26
2021-04-02 04:33:37
Inbound Marketing Strategies To Use During The Pandemic