What's Trending in Marketing For October 2018
There's a lot going on this October in the marketing world, from the waves Nike has made with its new advertising campaign to the addition of new features to social channels such as Twitter and LinkedIn. Read on to find out more about this month's marketing trends.
Noteworthy Marketing News
Nike's controversial Colin Kaepernick ad proves to be a smart strategy
https://youtu.be/-hIc_epqfI0
Brands tend to shy away from taking controversial stances in fear of alienating part of their customer base. Nike showed no such fear when it ran its Kaepernick commercial with the tagline "Believe in something even if it means sacrificing everything." Although Nike took a lot of heat for its stance, upon closer look it's obvious that it was a very carefully thought out strategy. USA Today examines the strategy in which Nike targets the up and coming Generation Z, a generation who will soon make up the biggest part of Nike's target audience.
Vidyard Integration Provides HubSpot With On-Board Video Capability
HubSpot, the popular inbound marketing and sales platform, has recently introduced the ability to add videos, add interactive layers, and create video messaging within their dashboard with their new Vidyard business video platform. Learn more about these new video capabilities in Martech Today's rundown of the new features.
Twitter Unveils Audio-Only Broadcasting Feature
Responding to the demand for audio-only broadcasts as well as the general popularity of podcasts, Twitter recently introduced a new audio-only broadcast feature to its channel and to Periscope. Read more about Twitter's new feature at Marketing Land.
Dynamic Ads Introduced to LinkedIn's Campaign Manager Platform
LinkedIn's new Dynamic Ad product provides businesses with the ability to create, manage, and track their campaigns and includes new features, such as pre-built templates and auto-translation capabilities. Check out what else you can do with LinkedIn's Dynamic Ad campaigns by reading the write-up on the new feature at Marketing Land.
Improving Your Marketing Program
What To Expect From the Future Of Email
Email marketing has been around for a long time, but that doesn't mean that there aren't new ways to improve your email campaign. Learn about the new email marketing trends brands are employing to create innovative new email campaigns that will soon become the standard.
Taking An Omnichannel Approach
In this day and age, there are countless ways to reach your target audience, whether it'sthrough TV commercials, blog posts, social media, or mobile, to name a few. By making sure that you establish a presence on multiple channels, you'll have a much better chance at reaching your audience. This is known as an omnichannel approach. Be sure to learn about the best practices for taking an omnichannel approach in our article outlining the strategy.
How To Write For Search And For Brand
There's a fine balance between writing content that's effectively optimized to help bring in more organic traffic and writing for your brand. Find out how to strike this balance by reading our tips on writing for both search and brand.
Email Marketing Metrics You Should Keep In Mind & What They Mean
Recent Marketing Reports, Updates, and Trends
New Pew Survey Reveals Facebook User Engagement is Down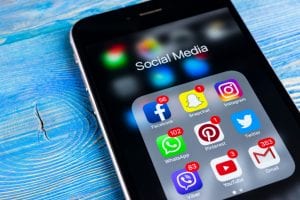 A recent study by the Pew Research Center revealed that 42 percent of Facebook users have spent less time engaging on Facebook on a daily basis, while 26 percent have deleted the Facebook app from their phones. For more details about marketing trends relating to the decrease of Facebook user engagement, read the summary on Marketing Land.
Why Retailers Need To Invest In Better Service And Faster Checkouts
GroundTruth published a survey-based report on marketing trends that provides insight into how physical retail stores can continue to compete in an era where online shopping is growing significantly. Learn how you can improve your physical retail location by checking out the results of the report on Marketing Land.
Connected TV Impressions Increase By 106 Percent Since 2016
Innovid recently published a new marketing trends report on the growth of Connected TV in a world where the audience for video content is as big and fragmented as its ever been. Find out how Connected TV could benefit your video content strategy by reading more about the study.
How Creativity and Data Driven Marketing Help Develop Marketing Campaigns
The landscape of the Internet is ever changing and Nicole has the energy and aptitude to keep Stevens & Tate Marketing out in front of the pack. She leads an enthusiastic team in strategic planning, development, search engine marketing, online promotions and advertising for the web.
https://stevens-tate.com/wp-content/uploads/iStock-911294484_lowres.jpg
961
1500
Nicole Wagner
https://stevens-tate.com/wp-content/uploads/STLogo-websml-biggerAM.png
Nicole Wagner
2018-10-01 00:00:00
2022-11-17 02:41:56
What's Trending in Marketing For October 2018