Understanding Growth Driven Design & Its Methodology
Your website design is arguably the most important element of a successful inbound marketing strategy. The website is the foundation of all your online marketing efforts, after all. When it comes to designing your website, there are two main ways to go about it. You can implement a traditional website design, in which you employ the best practices of website design into the creation of your site, or you can use a growth driven design.
What Is A Growth Driven Design?
The big difference between a growth driven design and a traditional design is that a growth driven design focuses on the creation of a systematic and interactive website that can adapt to changing technology as well as to the changing needs of your audience over the years. This allows you to make informed improvements to your site based on continuous learning, visitor research, and regular testing.
While traditional website designs can be just as successful, they require complete redesigns in order to implement any major changes that you might want to make in the future.
The Three Phases of Growth Driven Design
The growth driven design process is all about constantly measuring the performance of your site and making changes based on what you've learned to improve that performance. The following are the three phases of a growth driven design:
1. Strategy
The first step is to create a strategy by performing an audit of your current website, allowing you to see what works and what doesn't. An audit will not only help guide your design, it will also help provide you with benchmarks that you can compare your new design to moving forward. Part of your audit should include user testing, interviews, and surveys to get a better understanding of how visitors interact with your site. Once your audit is complete, set measurable goals that will help define the results you're looking for. Finally, revisit your buyer personas and buyer journeys to help guide your content strategy.
2. Launch Pad
Once your strategy is in place, create a launch pad. This is a site built using your strategy and wishlist. It's not a finished product even though it's completely functional for the end user. Essentially, it's a working base that you can build on over time and allows you to track user behavior and begin the process of ongoing optimization.
3. Continuous Improvement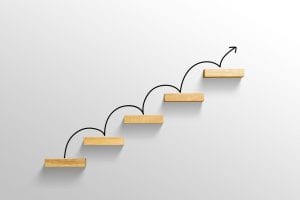 Using the information you've gathered from your audit and launch pad, you'll continuously improve your website over monthly sprint cycles within an 11-month period. This last phase is made up of four stages:
1. Plan
Take note of how effective your site is and what changes have the best impact on your long-term goals.
2. Develop
Take the plan you've developed and implement it.
3. Learn
Review past changes to determine what worked and what didn't so that you have a better idea of how to improve your site for the next spring cycle.
4. Transfer
Take everything that you've learned and share it with the different departments in your company, from marketing and sales to service and more.
Many brands are choosing to implement a growth driven design due to the ability to adapt to changing customer needs as well as a constantly changing online environment. However, this isn't to say that a growth driven design is superior to a traditional design. Much depends on what your brand is trying to accomplish and what your specific marketing needs are. In some cases, a traditional web design may work just as well.
The landscape of the Internet is ever changing and Nicole has the energy and aptitude to keep Stevens & Tate Marketing out in front of the pack. She leads an enthusiastic team in strategic planning, development, search engine marketing, online promotions and advertising for the web.
https://stevens-tate.com/wp-content/uploads/iStock-473456596_rev.jpg
607
1050
Nicole Wagner
https://stevens-tate.com/wp-content/uploads/STLogo-websml-biggerAM.png
Nicole Wagner
2023-01-10 09:00:15
2023-01-09 23:39:30
Understanding Growth Driven Design & Its Methodology