You've probably heard a lot about consumer lifecycles and the different terms used to describe said lifecycles, such as buyer journey and sales funnel. They can be a little overwhelming and a little confusing. You might even wonder why some terms seem to describe the same thing, such as buyer journey and customer journey. Don't be fooled–the buyer journey is very different from the customer journey and it's important that you know what the difference is. The following is a breakdown of the buyer journey vs. the customer journey.
The Buyer Journey
As we've previously discussed, the buyer journey makes up the stages that a consumer goes through up to their decision to purchase a specific product or service from a specific company. This includes the awareness stage, during which they realize that they have a problem; the consideration stage, during which they identify the solution to their problem; and the decision stage, during which they decide what product or service is the best solution to their problem.
The Customer Journey
During the buyer journey, the consumer doesn't become a customer until the end of the very last stage (the decision stage). However, your relationship with your customers doesn't end the moment they've made a purchase. The real success of a business depends on return customers, after all. This is where the customer journey comes into play.
During the customer journey, you should focus on further developing relationships with your customers through regular engagement. Building relationships will help to increase trust in your brand, which, in turn, will improve customer retention.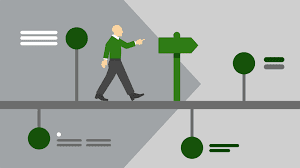 [Read about how to use the buyer's journey to create great content]
But getting customers to purchase your products and services again isn't the only goal. You'll want to establish customer loyalty, which means that they will only buy those products and services from you–and, eventually, will turn to your company for whatever needs you can offer solutions to.
Nurturing Customers into Brand Ambassadors
Once you've managed to build that loyalty, you'll be able to nurture that customer into a brand ambassador. Consumers tend to trust other consumers much more easily than they trust companies, which is why brand ambassadors offer so much value. Keeping all of this in mind, the following are a few tips to help you nurture your customers through their customer journeys:
Initiate engagement following purchases – It's important that you initiate contact with customers as soon as possible following a purchase. Many businesses use automation to send emails thanking customers for their purchase and even recommending similar products (in an attempt to cross-sell or upsell).
Send them relevant content – Continue nurturing your customers by sending them emails with content that is relevant to their engagement history (including their purchases and website behavior). The content you send should be informative and should help improve their brand experience. For example, tips on how to use the product that they purchased or general content relevant to their purchase.
Request and listen to feedback – Send your customers surveys or request that they leave reviews. Listen to what they have to say. Customer feedback is valuable to improving your business and can help you improve your relationship with your customers as well.
Reward referrals – You can encourage your customers to become brand ambassadors by implementing a referral program. For example, you can offer a discount for every customer that they refer to you.
The difference between the buyer journey and the customer journey is that the buyer journey leads up to the purchase whereas the customer journey continues following the purchase. It's important that you have strategies in place to accommodate consumers during both journeys to help ensure the success of your business.
https://stevens-tate.com/wp-content/uploads/iStock-1051337150.jpg
1365
2048
Nicole Wagner
https://stevens-tate.com/wp-content/uploads/STLogo-websml-biggerAM.png
Nicole Wagner
2020-10-13 00:00:00
2021-05-29 00:59:57
Core Difference Between Buyer Journey vs. Customer Journey