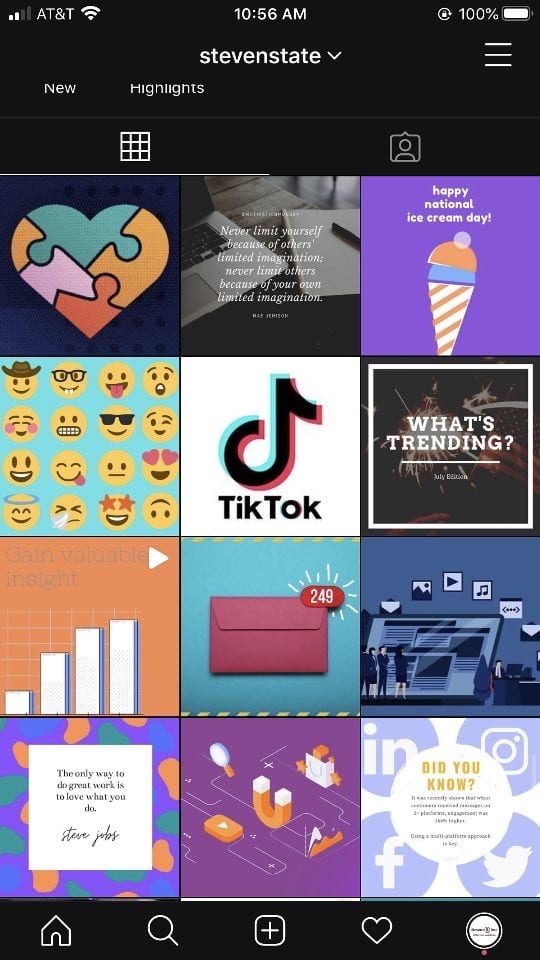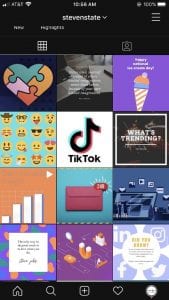 Looking for ways to boost your social media brand presence? Knowing how to increase brand engagement on Instagram, the latest and hippest social media platform app, is a great start. People are online all day due to working from home. Virtual shopping has risen due to restrictions and pandemic fears. As we have geared toward a more online world, your brand's presence on the web is more important now than ever.
Why Instagram?
According to Forbes, 80% of Instagram users follow at least one business or brand, and 200 million users on Instagram visit business profiles daily. 70% of users turn to Instagram to look up a brand, and 60% learn about new products using Instagram. Now is the time to catch up with the competition that is already using these trends to their advantage.
Here is a compilation of our 30 best marketing tips for businesses to grow Instagram engagement and following in 2020:
Instagram Profile and Posting Habits
Get to know the Instagram app and master how to use its basic features such as uploading posts and stories.
Write a compelling Instagram bio and integrate it into your brand personality.
Keep posts visually consistent to meet your brand's style guide and tone.
Incorporate categorized pinned stories on your Instagram page so it is easily navigable and can be used as a resource for sharing your brand identity to consumers.
Optimize captions using brand hashtags and relevant hashtags with high popularity. (Determine if a hashtag is trending by typing the hashtag in the instagram search bar to see how many posts come up with the hashtag.)
Use tools such as Hashtagsforlikes to optimize hashtags to use for your business sector.
Create and promote a specific branded hashtag for a campaign. Encourage others to share the hashtag with it theming around a relevant, trending topic that consumers are passionate about.
Use local hashtags and geotags on posts in order to attract local users on Instagram in a similar way SEO works for the web.
Post consistently with both posts and stories, including videos, polls, and other interactive elements to keep followers engaged and entertained with your content. 
Start conversations using Instagram stories stickers and polls.
Schedule Instagram stories to generate more views.
Keep in mind that 40% of Instagram videos do not have sound on, so ensure you caption relevant verbal content.
Convert instagram followers into email subscribers by making your Instagram a business account and promoting your email subscriptions in your Instagram posts and stories.
Monitor your tagged photos to ensure a good reputation, and un-tag your account on posts that are irrelevant or spam, so they do not appear on your profile.
Add a link to instagram stories in order to generate website traffic.
Use humor through gif's and memes to execute your brand message through a creative angle.
Increasing your Instagram following
Optimize SEO on instagram by paying vital attention to your Instagram handle and name. It is very important that your handle (@…) reflects your business industry. Try to make it short, sweet, and with relevant words. The account name should reflect the account handle and industry because it is what Instagram checks its searches against when users type a word or emoji in the search bar.
Partner with micro influencers.
Run a contest, giveaway, or raffle entry through your account page.
Invest in Instagram ads, which targets customers with personalization and buyer persona techniques.
Create "savable" content, or posts that are aesthetically pleasing, informationally useful or relevant. This will entice followers to save the content to their library and increases the chances of further brand awareness. Simultaneously, creating desirable content provides people a reason to continue following your page and share your content.
Participate in popular conversations on accounts with high following and public relevance in order to get your instagram handle out there and quickly generate new followers.
Encourage followers to re-share your Instagram stories through incentives of discount promotion codes and/or contests.
Open up about your business with a weekly featured vlog of the day in the life of an employee, an interesting biographical picture and captioned story of the founders, or inspirational quote from the CEO.
Follow relevant accounts and users following competition in your industry to gain followers back.
Promote your Instagram on other social media accounts. Feature your Instagram account in your Twitter and Facebook bios, and make a post promoting your Instagram page with a link.
If your Facebook has many likes or followers already, consider linking your Facebook and Instagram together to boost your Instagram following.
Keeping Track of your Instagram Performance
Ensure your account is in business mode to automatically receive valuable insights and analytics on how your posts are doing.
Regularly test and analyze new content to post to your Instagram.
Use a free follower tracking app to regularly unfollow accounts that do not follow yours back in order to maintain a good follower/following ratio while continuously following new accounts.
We hope these 30 tips with various resources serve you well on your journey to becoming an Instagram lead-generation powerhouse. Happy "gram-ing"!
https://stevens-tate.com/wp-content/uploads/iStock-1095028274-1.jpg
1365
2048
Nicole Wagner
https://stevens-tate.com/wp-content/uploads/STLogo-websml-biggerAM.png
Nicole Wagner
2020-07-20 11:17:47
2021-05-18 05:19:24
30 Ways to Boost Instagram Engagement & Following